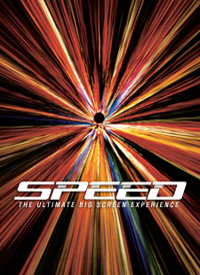 SPEED

WARNER BROS. PICTURES and IMAX® FILMED ENTERTAINMENT
MACGILLIVRAY FREEMAN FILM
Meet daredevils—racers, test pilots, and astronauts—the men who live and breathe speed on the frontier of human capabilities, as we look at the role of speed in man's life, from the dawn of time to the farthest reaches of the conceivable future. Feel the thrill of speed, whirling about the concrete bowl of the Olympic velodrome, hub to hub with cyclists. Race the back roads and streets with young Billy Vukovich, future Indianapolis 500 champion.
As you trace the development of technology, gradually accelerating with the pace of discovery and the increasingly faster velocities reached, you are walked, ran, pedaled, driven, flown, blown, rocketed, and blasted through time and space.